ArtiQ successfully raises € 1 million to help doctors diagnose and treat respiratory diseases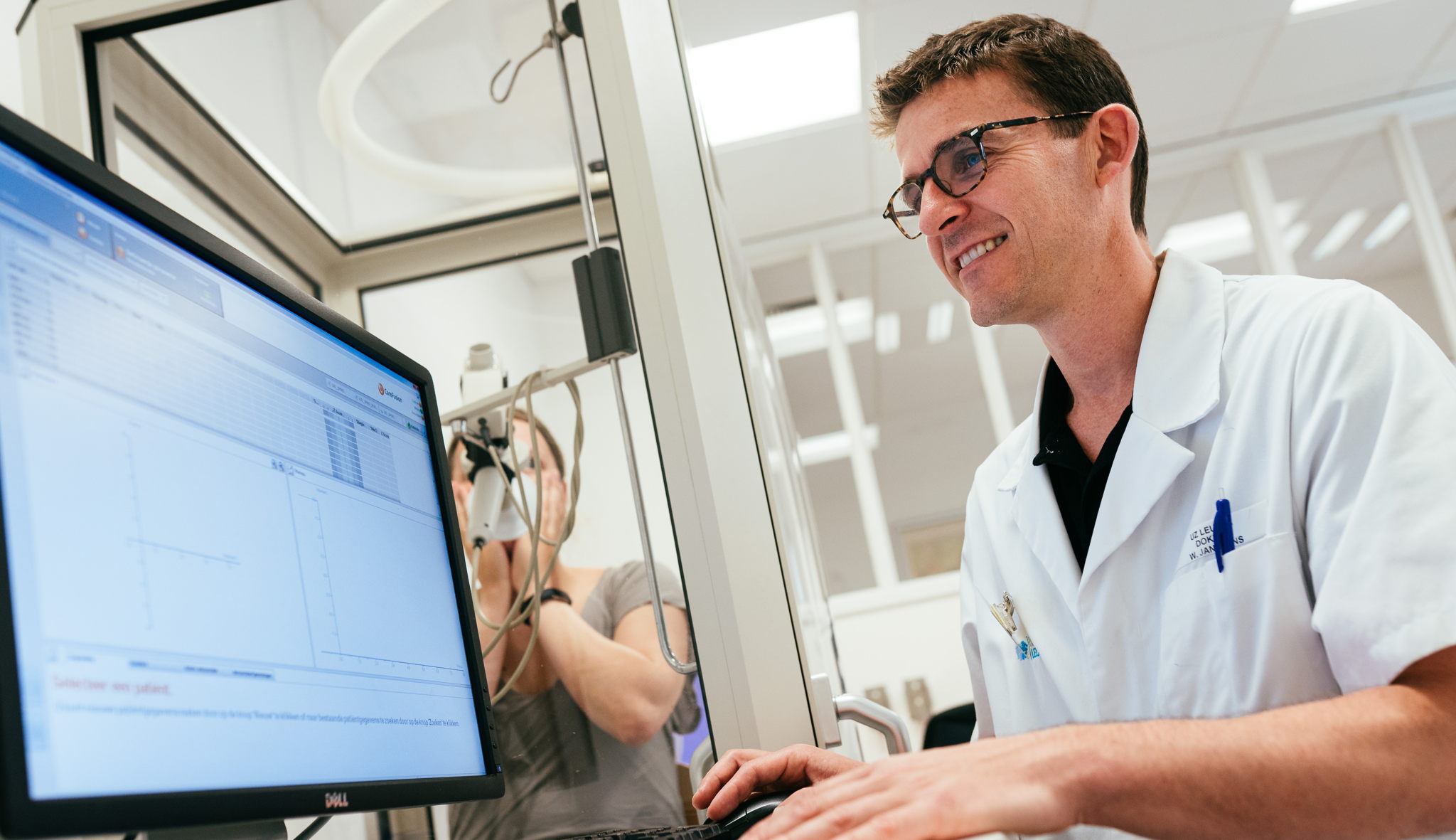 ArtiQ, a KU Leuven spin-off company which helps doctors diagnose, treat and monitor respiratory problems, announces that it has successfully concluded its seed financing round, raising € 1 million euro. The financing will be used to launch ArtiQ|PFT, a decision support tool that offers pulmonologists a fast, reliable and standardized evaluation of a patient's lung function. The investors are KBC Focus Fund, the KU Leuven Gemma Frisius Fund, University Hospitals Leuven and private investor Bart Swaelens. ArtiQ is part of the accelerator Start it @KBC that supports innovative and scalable entrepreneurship.
"Using artificial intelligence, ArtiQ|PFT facilitates the interpretation of pulmonary function tests (PFT) and improves the diagnosis of lung diseases. This is usually done manually by expert readers," said Marko Topalovic, CEO of ArtiQ. "The software analyses complex PFT data, resulting in an objective and reliable interpretation, with significantly better accuracy and in no time."
The software was developed for and partly by doctors of University Hospitals Leuven. ArtiQ|PFT has been clinically validated and has been used by University Hospitals Leuven for more than a year, supporting doctors in the decision process during diagnosis and treatment. After launching the software, more hospitals, doctors and patients will be able to benefit from this technology. Currently, ArtiQ|PFT can discriminate between nine common respiratory diseases, such as chronic obstructive pulmonary disease (COPD), asthma, and interstitial lung disease.
Machine learning
Wim Janssens, pulmonologist and co-founder of ArtiQ: "Pulmonary function tests provide extensive numerical outputs, and their patterns need to be interpreted within a clinical context to come to a diagnosis. Based on machine-learning algorithms, we showed that computers are twice as accurate as pulmonologists. Our AI-based software can serve as a second opinion for pulmonologists. It can be particularly helpful in recognizing rare but specific patterns."
With its cloud-based technology, ArtiQ|PFT can be coupled and synchronized with electronic patient records or directly linked to PFT machines. Upon testing their patients, pulmonologists and other clinicians receive an automatically generated report in their patient files.
ArtiQ plans to deploy its technology in multiple Belgian hospitals by the end of the year and aims for rapid international growth. In addition to commercializing the first application for pulmonologists and hospitals, ArtiQ also is working on solutions for quality control and diagnostics with spirometry in General Practice and clinical trials. Moreover, ArtiQ is investigating whether its technology can be used for other diagnostic decisions and with individualized therapy prescriptions. As such, the company addresses a clear trend in which artificial intelligence is not only used for technical data and imaging but also makes an essential contribution to clinical thinking processes concerning diagnosis and treatment.
--------------------------------------------------
About ArtiQ
ArtiQ is a young, dynamic and innovative spin-off company of KU Leuven (Belgium). The company was established early 2019 by four committed founders with profound expertise in respiratory medicine, medical devices and artificial intelligence. ArtiQ's AI-based software provides a powerful decision support tool that improves current clinical practice.
ArtiQ aims to become the trusted partner of medical practitioners for the diagnosis, treatment, and follow-up of respiratory problems. Its artificial intelligence-based medical software helps medical practitioners to interpret pulmonary function tests and improves the diagnosis of lung disease.
More information: www.artiq.eu
About KBC Focus Fund
The KBC Focus Fund is a € 50 million venture capital fund that focuses on deeptech. We have the ambition to boost the sector of nanotechnology, microelectronics and IoT. We mainly focus on Belgium and surrounding countries where well-known expertise centers in this technological area are located.
The KBC Focus Fund leverages on the network and expertise of KBC Group and is managed by KBC Securities. KBC Securities has a solid knowledge of the tech ecosystem in Belgium and beyond with experienced teams in the M&A, Corporate Finance and Research & Sales departments. As part of KBC Group, the KBC Focus Fund aims to be long-term partners for entrepreneurs.
More information: https://www.kbcsecurities.com/investment-services/kbc-focus-fund
About KU Leuven
KU Leuven is Europe's most innovative university. Located in Belgium, it is dedicated to research, education, and service to society. KU Leuven is a founding member of the League of European Research Universities (LERU) and has a strong European and international orientation. Our scientists conduct basic and applied research in a comprehensive range of disciplines. University Hospitals Leuven, our network of research hospitals, provides high-quality healthcare and develops new therapeutic and diagnostic insights with an emphasis on translational research. The university welcomes more than 50,000 students from over 140 countries. The KU Leuven Doctoral Schools train approximately 4,500 PhD students.
About UZ Leuven
There are nearly 2,000 beds in the University Hospitals Leuven, making it the largest university hospital in Belgium. Every day, more than 9,500 enthusiastic employees do their utmost to provide diverse and specialist patient care and work continuously on improving and updating that care. The University Hospitals Leuven's strength lies in combining top quality patient care, excellent innovative scientific research and high-standing academic training.
About the KU Leuven Gemma Frisius Fund
The Gemma Frisius Fund (GFF) is a seed capital fund, established in 1997 as a joint venture between KU Leuven, KBC Private Equity and BNP Paribas Fortis Private Equity. It combines the research and technology transfer expertise of the university with the financial and investment expertise of the two financial partners. GFF provides seed capital in the early development phases of innovative, research-based spin-off companies originating from all technology domains and provides support in their further growth process.
More information: http://lrd.kuleuven.be/en/spinoff/gemma-frisius-fund