Start it @KBSEA makes Ostend the Capital of the Startups
Press launch | 21 August, 9.30am-12.30pm | Kursaal Ostend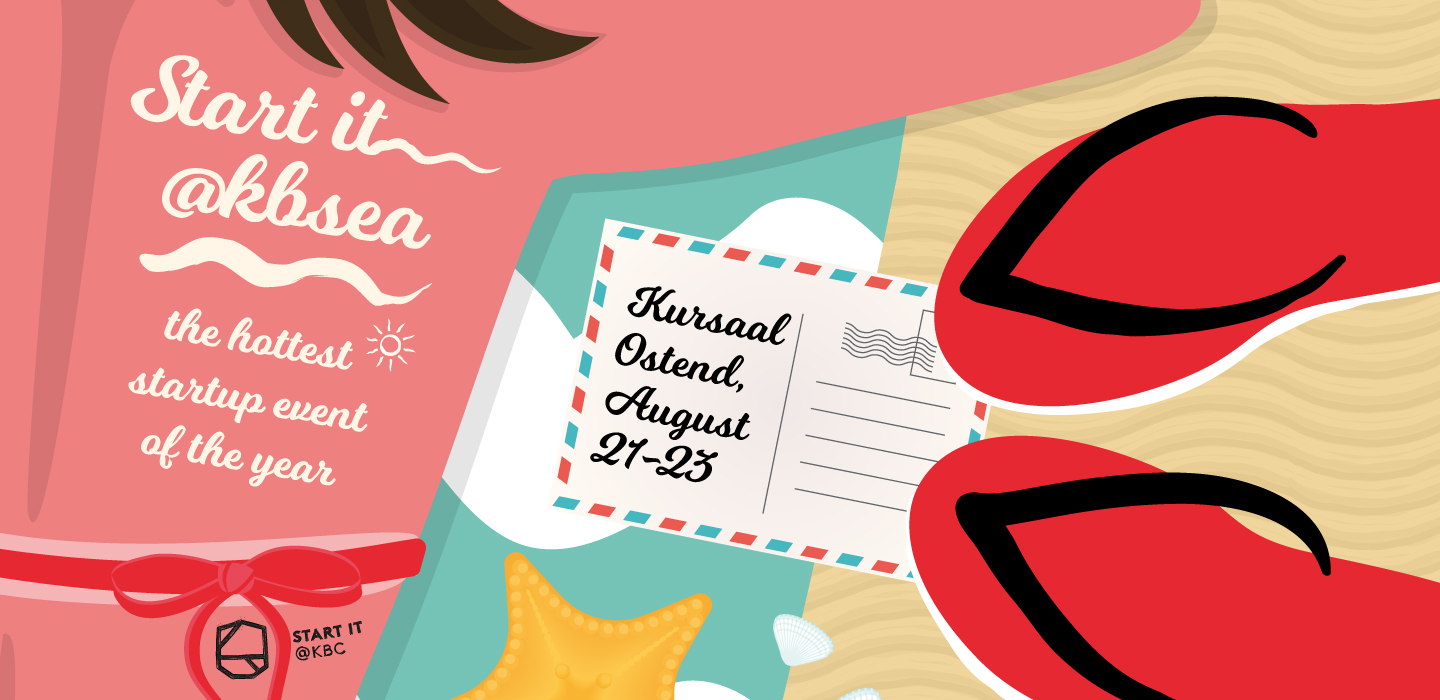 PRESS INVITATION
Kick-off with Dragon's Den starring the mayor, investors and spectators as 'dragons'
Start it @KBSEA Cup for the winner of the Dragon's Den
For the third year in a row, the Belgian startup scene will be setting up tent at the Belgian seaside. For 3 whole days – Moneyday, Techday and Salesday – Start it @KBSEA will turn Ostend into a veritable hotbed of innovation and disruption from 21 to 23 August. The jam-packed programme will kick off with Start it @KBC's own version of "De Leeuwenkuil", where not only the Mayor of Ostend but each and every spectator will offer constructive criticism.
Brussels, Antwerp, Leuven, Ghent, Hasselt, Kortrijk…: things will be quiet there from 21 to 23 August. Because for those 3 days, the entire startup scene will relocate to Ostend for the third edition of this sizzling event. "For Start it @KBSEA, we'll be doing what we always do as an accelerator: stimulating cross pollination between startups, scale-ups, investors, multinationals and the best coaches in the country. Now all we've added is an extra dash of sea and a pinch of sand," explains Start it @KBC founder, Lode Uytterschaut.
Start it @KBSEA is built around three themed days: Moneyday, Techday and Salesday. Each topic is an occasion for startups from around the country – whether they be part of Start it @KBC or not! – to soak up some inspiration from experienced entrepreneurs. The programme includes a boat trip on which startups and investors will literally go to sea together; a session in which imec reveals the latest innovations in the domain of artificial intelligence and the Internet of Things; a social media workshop by Studio Brussel on how to attract more followers; and a hands-on session about what we can still learn from market vendors when selling in this high-tech age.
Six-headed dragon
This year, Start it @KBSEA will kick off proceedings with something completely different: the Dragon's Den. Twelve startups will pitch their idea to a six-headed dragon in the form of Mayor Johan Vande Lanotte, Start it @KBC founder Lode Uytterschaut and the renowned investors Frank Maene (Volta Ventures), Katrin Geyskens (Capricorn Ventures), Bert Van Wassenhove (The CoFoundry) and Koen Schrevers (KBC Start It Fund). What's new is that the startups will also have to get a live audience on side as well, if they are to have a chance at winning the Start it @KBSEA Cup for the best pitch.
"Thanks to pitches such as those during the Dragon's Den, the startups learn how to position themselves in the market and uncover potential pitfalls in advance. At the same time, established companies and investors are encouraged to take the startups and scale-ups into consideration and ultimately either buy from or invest in them. Innovation and renewal are both becoming the exclusive reserve of startups. Large companies, by contrast, are often forced to focus solely on their core business and often don't have time or space to jump straight onto the innovation bandwagon. That is why a collaboration, a cross-pollination between startups and the corporate world can be mutually beneficial," states Mr. Vande Lanotte.
"The Dragon's Den is an all-important exercise for the startups," emphasizes Lode Uytterschaut. "Alongside paying customers, a first investor can be critical to the survival of fledgling startups. We therefore devote a lot of energy to training them in the art of pitching their idea, so they are well prepared when investors start turning up the heat!"
Capital of the startups
Start it @KBSEA is a collaboration between Start it @KBC and the City of Ostend.
"Ostend is the first city in North-West Flanders to set up an incubator, in which the 'Economisch Huis' invests. Every year, a jury selects 10 innovative startups who receive a special starters pack. The starters pack is valued at 20,000 euros and is a virtual backpack of resources they can call on. The contents of that pack are never the same, because each new innovative company naturally has different needs: starting capital, office space, mentorship, etc. There is a strict selection process which involves an entire network of experts from POM West Flanders, colleges and universities," concludes Mr. Johan Vande Lanotte.
///////
Note for journalists
You are warmly invited to attend the press launch of Start it @KBSEA:
21 August 2018, 9.30am-12.30pm
Kursaal Ostend (Kurso Feestzaal, 2nd floor)
Kursaal-Westhelling 12, 8400 Ostend
9.30am Welcome with coffee/tea and croissants
10.00am News of Start it @KBC by Lode Uytterschaut, founder Start it @KBC
10.10am Ostend initiatives for startups by Johan Vande Lanotte, Mayor of Ostend
10.25am Dragon's Den
12.30pm End
Ongoing photo and interview opportunities.
Mr. Johan Vande Lanotte will be present until 11.30am.
Sandwiches and rolls will be provided.
You will find the full Start it @KBSEA programme in the enclosed press kit.
Let us know which workshops you would like to attend and which startups or coaches you would like to interview via [email protected] or +32 486 05 84 74. We would be delighted to help put together a customised programme for you.
Press kit Start it @KBSEA 2018
PDF - 1.5 Mb
Download